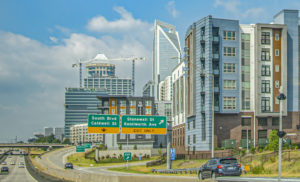 Apartment List just published their quarterly
renter migration report
, shedding new light on how the COVID-19 pandemic has impacted moving trends to and from Charlotte.
Their Q3 Migration report analyzes proprietary data from millions of user searches spanning April through early-August to determine where Americans are looking to make their next move. Compared to this time last year, they found notable shifts in search activity, likely due to the pandemic and its impact on the economy. While some of the hottest markets have seen a dropoff in out-of-metro interest, other metros are seeing activity pick up.
Key insights from the report include:
32.5% of those looking for a place to live in Charlotte are searching from outside the metro, compared to 37.6% at this time last year.

23.4% of apartment hunters currently living in Charlotte are looking to move elsewhere, compared to 23.6% last year.

Renters looking to move to the Charlotte metro from elsewhere are most likely to be searching from New York, NY. This is also is the most most popular destination among renters looking to move away from Charlotte.
Charlotte saw the largest number of inbound searches coming from New York:
and we also saw the largest number of outbound searches going back to New York:
Did you move to Charlotte from out of the area, if so, where from? 
Are you thinking about moving away from Charlotte, if so, where to?
Comments
comments