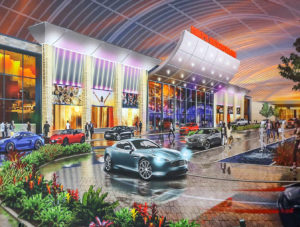 The federal government has approved a massive new $273 million casino 35 miles Southwest of Charlotte that would create over 3,000 jobs.
This would be the first official casino for the South Carolina-based Catawba Indian Nation after petitioning the federal government for decades to build one.
Yesterday, the tribe held a press conference where they unveiled detailed plans and renderings of the casino planned to be built in Kings Mountain, just off I-85.
"The Nation is very thankful for the department's decision to take this land into trust, enabling us to achieve the promise of self-determination through economic development," said Catawba Chief William Harris in a statement. "The land is close in proximity to our current land holdings and is our ancestral land in an area that the Catawba people have used and occupied since time immemorial."
Harris noted that the 195,000 square-foot casino would be paid for by unidentified investors and would be run by Delaware North, which manages sports and entertainment venues in addition to casinos.
What do you think about the idea of a casino being built so close to Charlotte?
Comments
comments