The world-famous Biltmore House in Asheville just opened its Christmas season with their over-the-top decorations that include 50 themed trees, miles of garlands and hundreds of poinsettias.
Located just 125 miles west of Charlotte, America's largest private home is decked out in festive finery every day through January 7.
Each year, RomanticAsheville.com Travel Guide gets a preview tour just before opening on the first day.
Here's an exclusive sneak peek:
This year's theme "A Vanderbilt Christmas" has a strong Gilded Age feel with elegant details related to Vanderbilt family Christmas stories. In addition to daytime tours, take a candlelight evening tour of the castle for extra enchantment. Outdoors, a 55-foot Norway spruce on the front lawn is covered with 50,000 lights and giant stars.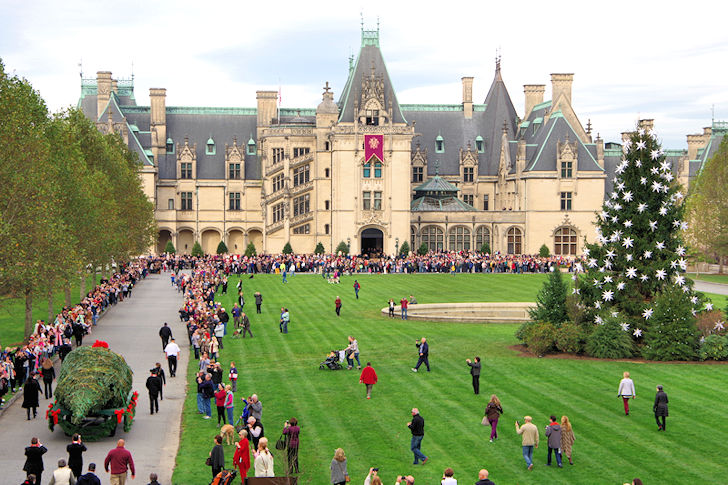 Inside the 7-story tall Banquet Hall, the towering 37-foot-tall Fraser Fir tree is decorated with 500 lights and giant wrapped packages – just as the Vanderbilts did. George Vanderbilt first opened the home to his family and friends on Christmas Eve 1895 – with four acres of floor space, including 35 bedrooms, 43 bathrooms and 65 fireplaces.
It took 1,000 workers six years to build the 250-room castle. George traveled throughout Europe and the Orient, purchasing paintings, porcelains, bronzes, carpets and furniture. He married Edith in 1898.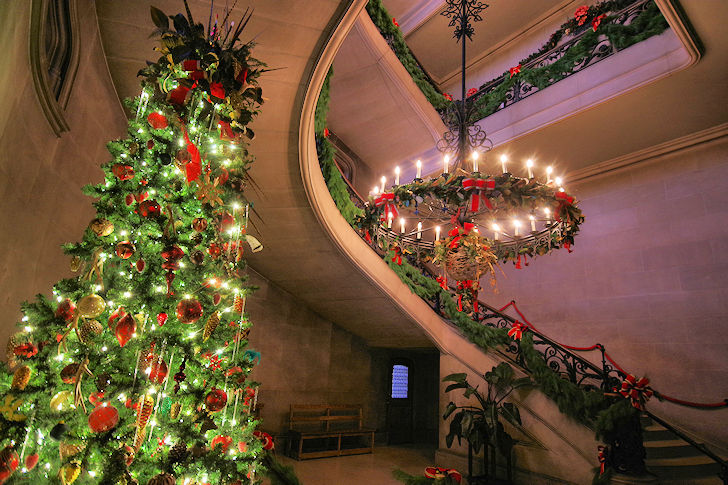 The favorite room of many visitors is the Library. Decorations this year are themed around George Vanderbilt's love of travel as well as the adventures one can take in a book.  The tree is covered in hot-air balloons, paper stars, sailing ships, Asian parasols and Eiffel towers.
The Breakfast Room is washed with rich tones. Look for the miniature model of All-Souls church under the tree.   
Tapestry Gallery has a "Heaven and Nature Sing" theme, complete with the nativity scene.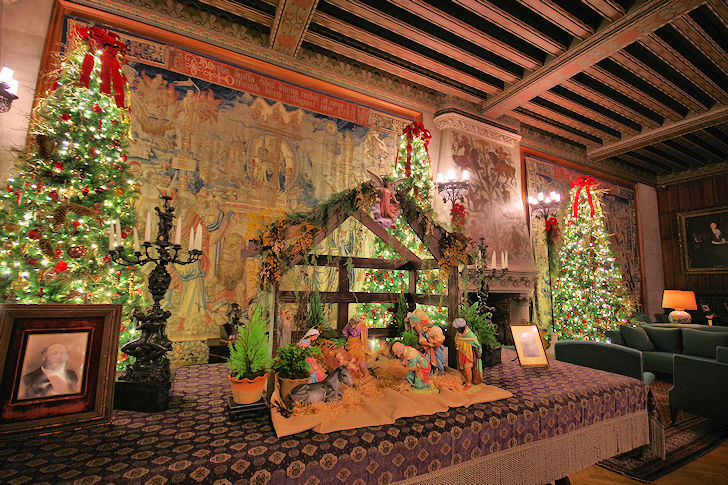 The giant 37-foot live Fraser fir tree arrived on November 1 with much fanfare and big crowds. It took a team of 40 workers to navigate it through the house and into the Banquet Hall!
Admission to the estate includes many other things to see and do. The Conservatory by the Walled Garden is filled with poinsettias, orchids and huge tropical plants.
Tips for Visiting
·         Spend an entire day since there's so much to see.
·         Wear comfortable walking shoes.
·         Allow 2 hours for a self-guided tour of the house. Getting the audio tour is well worth the extra charge. Guided tours are available for additional charge.
·         On most days, you'll need to book a house tour reservation time when you buy your ticket or at the guest services stand near the house entrance.
·         After your house tour, recuperate at one of the cafes located next to the house in the former stables – also home to a variety of shops.
·         From the house, stroll through many acres of gardens to the Conservatory.
·         Allow travel time within the estate. The house is two miles from the front gate. Located five miles from the house is Antler Hill Village, home to the Winery, shops, restaurants, barn and two hotels.
·         Saturdays have the biggest crowds.
·         Buy tickets online at Biltmore.com at least 7 days in advance to save $10/person.
·         Now through November 30th, save $65 on the Biltmore Annual Pass – making it $109 instead of usual $174.
·         Candlelight evening tours require a separate reservation. Book your time ASAP since many evenings will sell-out.
For more info, go to RomanticAsheville.com's Insider's Guide to Christmas at Biltmore. https://www.romanticasheville.com/biltmorechristmas.htm
Comments
comments