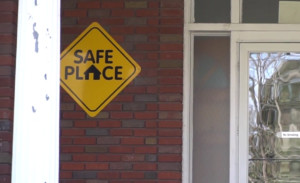 The Relatives and Charlotte-Mecklenburg Schools recently announced that all 168 of the district's schools have been designated Safe Places for young people in crisis to get help. Each school will receive Safe Place signs and site training for all employees.
The Relatives is the Safe Place agency for Mecklenburg County and has partnered with National Safe Place since 1988 to create a local network of schools, businesses, churches, transportation services and community locations willing to become Safe Places. Any child or teen can seek help at a Safe Place location and will be connected to the Youth Crisis Center.
I recently attended on of the Relative's open houses to find out more:
"The Relatives is elated that all Charlotte-Mecklenburg Schools are now Safe Place locations," said Trish Hobson, executive director of The Relatives. "CMS is a powerful addition to our local Safe Place network and will elevate awareness in the community about where kids in crisis can turn for help."
In addition to signs and training, schools will receive door and window decals, laminated procedures sheets and TXT4Help cards. When a child or teen enters a Safe Place and asks for help, it triggers a process that includes finding a comfortable place for the child or teen to wait while the Safe Place employee calls the local Safe Place agency, which in Mecklenburg County is The Relatives. A qualified volunteer or agency staff member will arrive in 30 minutes or less to arrange the necessary help and professional services.
National Safe Place is a nonprofit organization based in Louisville, Ky. It began in 1983 as a local initiative and has grown into a national network with almost 20,000 locations in the U.S. designated Safe Places. In 2009, the network introduced TXT4HELP, which gives children and teens immediate access to help and resources through texting, including the Safe Place nearest to them.
In Mecklenburg County, Safe Place has nearly 30 partners in addition to CMS. The YMCA, the Charlotte Transit System, several churches, the Charlotte Fire Department, the Charlotte Mecklenburg Library and several restaurants are among the partners. Annual dues to participate are $100 for each non-profit location and $200 for each for-profit location. The funding for the annual CMS dues of $16,800 will be provided by the Student Services department.
"We are so pleased to be part of this network," said Dr. Marion R. Bish, executive director of Student Services. "This is an item that has been a priority for me given that every QT gas station in the country is a Safe Place and our schools were not! We have trained schools previously in anticipation of this, and are doing another round of training in February."
To learn more about Safe Place and The Relatives, click here.
Comments
comments