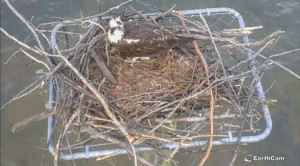 EarthCam and the North Carolina Wildlife Federation (NCWF) are bringing visitors a unique bird's-eye-view of an osprey nest in Mooresville, NC with this new live streaming webcam.
Located on Lake Norman, watch as these fish hawks hunt for food and prepare their nest for the arrival of some baby chicks!
The camera was installed by NCWF's local chapter, the Lake Norman Wildlife Conservationists (LNWC), a community-based organization established for the purpose of environmental education, appreciation of wildlife and natural history, and conservation of wildlife habitat and natural resources.
"Offering the opportunity to view an active osprey nest provides a unique educational experience to the public and helps foster awareness of our mission to protect, conserve and restore the wildlife and habitats of North Carolina", said Billy Wilson, Vice-Chairman of North Carolina Wildlife Federation and President of Lake Norman Wildlife Conservationists.
You can watch the precious Lake Norman osprey couple on the live webcam here.
Comments
comments