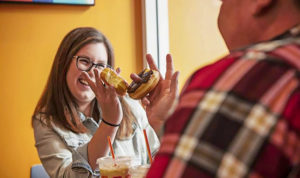 January is National Blood Donor Month, a time to recognize the  importance of giving blood and platelets while honoring those who roll up a sleeve to help patients in need. To celebrate, Dunkin Donuts is teaming up with the American Red Cross to provide 25,000 vouchers for a  free Medium Iced Coffee and a Classic Donut for Red Cross blood and platelet donors in North Carolina. 
Throughout January, presenting donors will receive a voucher for a free Medium Iced Coffee and a free Classic Donut, redeemable at Dunkin Donut locations throughout the Charlotte region.
As COVID-19 continues to affect everyday life, people may not be thinking about blood donation. However, blood and platelets are needed each day to help patients battling disease and facing the  unexpected. Donating blood is an easy way to care for each other and ensure hospitals have the blood products patients rely on. 
"As the pandemic wears on into the New Year, blood donations remain essential to the health of our communities," said Angela Powley, Regional Donor Services Executive, American Red Cross. "Our collaboration with Dunkin' allows us to thank our donors with a special gift this January and helps ensure blood products are available for patients." 
To schedule an appointment to donate blood, download the free Red Cross Blood Donor App, visit RedCrossBlood.org, call 1-800-RED CROSS (1-800-733-2767) or enable the Blood Donor Skill on any Alexa Echo device. 
Comments
comments