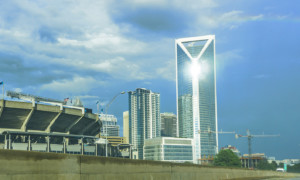 Duke Energy has just announced plans to pass along the money that save from the recent tax bill to its North Carolina customers.
The tax bill decreases the overall corporate tax rate from 35% down to 21%. Duke Energy now estimates that they'll save $276 million per year thanks to the new tax law.
This past week, Duke sent out a press release saying that "customers will receive the benefits of tax reform," although they didn't specify exactly how much of the $276 million savings they'll be passing on. They noted that they plan on incorporating the new savings into its pending rate hike requests.
The announcement comes on the heels of a proposed 16.7% rate hike that would help pay for coal ash cleanup and transition to cleaner energy.
On Thursday, Attorney General Josh Stein applauded Duke's announcement of passing along the savings;
"The federal government recently slashed corporate income tax rates – a change that will lead to significant cost savings for utilities like Duke Energy, as well as natural gas and water utilities in our state.
The rates we pay utilities have been set assuming higher taxes. It would be wrong for us to pay the utilities for an expense they are not incurring. So, today, I urged the Utilities Commission to order utilities to pass those savings on to the people of North Carolina.
I commend Duke Energy for agreeing with this request and hope to see other utilities do the same."
In their announcement, Duke said that because the North Carolina Utilities Commission needs to approve any customer rate changes, it is premature to know how much North Carolina customers can expect to save.
Comments
comments