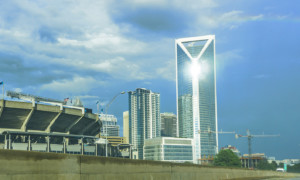 Duke Energy just sent out a press release announcing that they now estimate over 3 million customers could lose power from Hurricane Florence and that it may take weeks to restore.
"The magnitude of the storm is beyond what we have seen in years," said Howard Fowler, Duke Energy's incident commander. "With the storm expected to linger, power restoration work could take weeks instead of days."
The Carolina's largest energy company has now amassed a team of over 20,000 workers to begin restoring power once the storm hits, including 8,000 Carolinas-based workers, 1,700 from Duke Energy Midwest, 1,200 from Duke Energy Florida, and 9,400 from other utilities.
"Despite our workforce, customers should continue to make plans for their homes and facilities," said Fowler. "It's important for people to know this is no ordinary storm and customers could be without power for a very long time – not days, but weeks."
If you live anywhere in the Carolinas, Duke Energy recommends having the following emergency items stocked in your home in case of a power outage;
All the above items are available via Amazon's same-day Prime Now service if your local store has already been cleaned out.
If Florence makes landfall in the Carolinas tomorrow as Category 3 or higher, it will become the first major hurricane to hit the region since Fran in '96.
Both North Carolina and South Carolina have already declared states of emergency to prepare for the massive storm.
UPDATE 9/13/2018 8:00am:
Hurricane Florence has just been downgraded to a Category 2 storm, but has also grown in overall size, increasing the reach of its damaging winds. It could still marginally strengthen before making landfall, but it will likely remain a Category 2 or weak Category 3.
Comments
comments