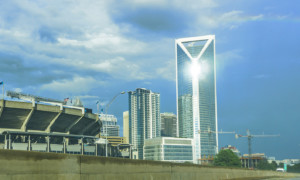 With Duke Energy customers now facing one of the highest rate hikes in the history of the company, regardless of how much electricity they use, an attorney for the company tried to calm the public by saying that the rate hike only amounts to the price of a fast food meal.
"One extra Big Mac, fries and a drink," Duke Deputy General Counsel Bo Somers commented during the company's hearing before the North Carolina Utilities Commission.
The company's attorneys are now trying to convince regulators that the rate hike won't be a financial hardship to anyone, even though the hike affects the company's basic service charge, not the amount of electricity used.
The current monthly service charge is $11.80 per month, and the company is trying to secure an increase of $5.99 for residential customers, for a total of $17.79 a month. The increase is, roughly the price of a Big Mac value meal from McDonald's, but it's far from all they are asking for.
According to Raleigh's WRAL, "Duke Energy Carolinas, the company subsidiary serving the western half of the state, began this process by asking for a 16.7 percent rate increase, though that figure has come down some after negotiations with attorneys representing the public before the Utilities Commission. Add to that an additional $13 billion the company wants from tack-on bill riders, which would fund roughly a decade's worth of upgrades to the state's power grid and the burying of power lines."
Another major issue at play here is executive pay. While the public-private company is trying to force historic rate increases on all of its customers, it's executives are now seeing historic pay increases.
Duke recently reported to shareholders that CEO Lynn Good was paid over $21.4 million in 2017, over double the $10.8 million she was paid in 2015.
Her salary rose by 4% last year, but her stock awards shot up almost 90 percent to more than $17 million.
What do you think about Duke's requested rate hikes?
Comments
comments