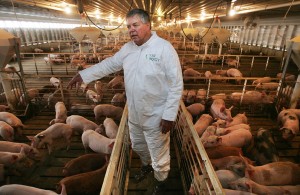 In an attempt to create more renewable energy, Duke Energy recently announced that they will start buying swine waste output from a North Carolina pig farm. They will use the waste's methane gas bi-product to generate renewable electricity for four of its power plants.
The company said that they initially plan on powering at least 100,000 homes in North Carolina using the new methane combustion process.
"It is encouraging to see the technological advances that allow waste-to-energy projects in North Carolina to be done in an environmentally responsible and cost-effective manner for our customers," said David Fountain, Duke Energy president.
North Carolina's Renewable Energy Portfolio Standard (REPS) regulations now require Duke Energy to meet even higher compliance targets for renewable energy. Their new pig waste methane program will purchase about 1 million MMBtus of pipeline-quality methane each year – just enough to satisfy the REPS regulations.
Please share;
Comments
comments