The Charlotte-Mecklenburg Board of Education recently announced that Dr. Clayton Wilcox will be the new superintendent of Charlotte-Mecklenburg Schools, replacing Ann Blakeney Clark (who was just appointed last year).
Dr. Wilcox is currently serving as the Superintendent of the Washington County Public School system in Hagerstown, Maryland, currently with 22,000 students.
He'll be taking over the top spot of the second-largest school district in North Carolina and the eighteenth-largest in the nation, a system that now has over 135,000 total students enrolled.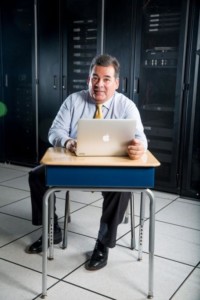 "I am drawn to Charlotte-Mecklenburg for a number of reasons, first because your core beliefs are my core beliefs – that you and your school board embrace a compelling vision that all students must receive the best education available anywhere," Dr. Wilcox commented the letter he just released.
He's also served as a superintendent in Pinellas County, Fla., and East Baton Rouge, La., was a senior vice president with Scholastic, and started his career as an elementary school teacher in Waterloo, Iowa (you can see his complete bio here).
Superintendent Ann Clark made the announcement this afternoon. "It has been my honor and privilege to serve on Team CMS for more than three decades. I am excited to work closely with Clayton Wilcox to ensure an exceedingly well-executed baton handoff of this amazing district and its outstanding students and staff. Our district is eager to welcome the new superintendent and I look forward to watching the continued success of CMS under his leadership."
McPherson and Jacobson, LLC conducted the search. They chose 10 finalists out of the 51 people who successfully completed the application process.
Dr. Wilcox will begin his new position on July 1, 2017.
Comments
comments