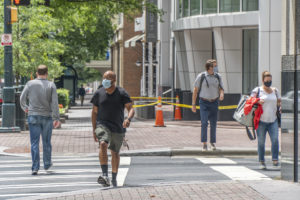 Charlotte doctors are pleading with Charlotte's minority communities to supply more willing participants in an upcoming COVID-19 vaccine trial to ensure the potential new vaccine is safe people of all backgrounds.
According to a press release from Charlotte's Tryon Medical, "Black people make up about 13% of the population but only 5% of clinical trial participants, on average. Latinx people account for about 18% of the population but only 1% of trial participants."
The company goes on to say that, "if you have Black, Latinx, American Indian or Asian heritage, please consider participating in one of the COVID-19 vaccine trials".
As the LA Times reports: In vaccine trials, diversity matters. Black and Latinx people make up far more of the population than are represented in trials.

Help us change that! If you can, participate in a #COVID19 #CLT trial ➡️ https://t.co/a8LokFWOCL https://t.co/NiNzTE7mV2

— Tryon Medical Partners (@TryonMedical) September 10, 2020

The current deadline to apply for COVID-19 vaccine trials in Charlotte is this coming Friday, September 18. If you would like to participate or get more information please call Tryon Medical Partners at 704-586-9386.
Tryon Medical Partners currently has eight locations in and around the Charlotte area, as well as two satellite COVID-19 testing locations for the public.
Comments
comments