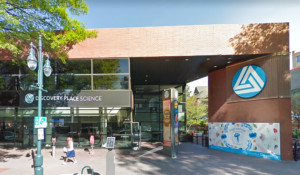 Discovery Place Science will celebrate the 50th anniversary of man landing on the moon with a series of special events that will take visitors to infinity and beyond.
Events will launch on Tuesday, July 16, when the Museum will Blast Off in honor of the beginning of Apollo 11's historic flight to the moon. On Saturday, July 20, the Museum will mark the anniversary of the moon landing with a special To the Moon and Beyond event. Visitors can create a pocket solar system, interact with members of the Charlotte Astronomy Club, use a solar viewer to look at the sun, use space math to find out their weight on other planets, test out their astronaut skills with hands-on activities, go inside the Star Lab to get a better view of space, see a real meteorite and other space-related items from our Collections Department and learn about how astronauts are using DNA sequencing in space.
What goes up, must come down and on Wednesday, July 24, Discovery Place Science will welcome our astronauts home with a Back to Earth event. Visitors will participate in egg-drop challenges in which visitors can try to land an egg safely into a pool of water. Plus, at 1 p.m., guests can take part in a virtual chat with a NASA staff member about the initiatives NASA has planned for the future, including the mission to Mars.
For those who can't make it for these special events, space activities are taking place throughout the month at the Museum in daily programs, including how astronomers use filtered light; the mapping of rising sea levels and NASA's Jason-3 spacecraft; static electricity and magnetic waves; the expanding universe; the sun; gravity; modular robots; space weight and much more.
The space invasion at Discovery Place Science will continue through September, with new intergalactic adventures taking place each month.
Comments
comments