Since last year, Cypress Creek Renewables has asked the North Carolina Utilities Commission for an unusually high number of solar farm certificates – 15 projects at over $1.8 billion to be exact.
It's not guaranteed that the commission will grant all the requested certificates, but Cypress Creek one of the most reputable builders of large-scale solar arrays in the country – they rarely file for projects without having some level of confidence they will be approved.
"Cypress Creek has been at the forefront of developing transmission projects in North Carolina for some time and the increased activity in that area is a reflection of our continued interest," remarked Cypress Creek's representative Jeff McKay in a recent press release.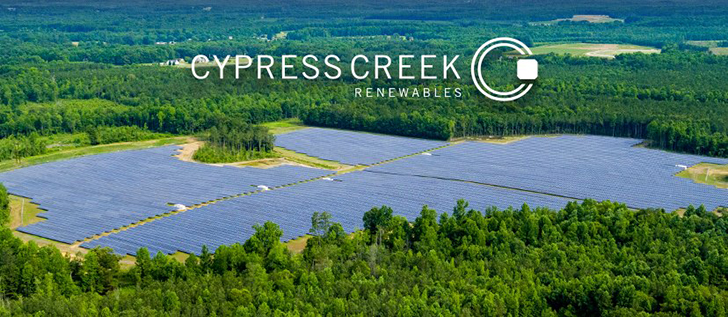 The company now has over 200 full-time employees and has already invested more than $1.5 billion into solar farms since 2014.
They currently have solar farms in operation or under construction in 15 states including New York, Texas, Oregon, Montana, Indiana, Georgia, Idaho, North Carolina and South Carolina. They have an operating portfolio of over 1 gigawatt, making them the fastest growing developer of utility-scale solar farms in the United States.
Here's their current portfolio of solar farms completed and under construction:
6 of the new solar farms they've filed to build will be over 80 megawatts – a record size for them in our state. Currently, their largest one is in Forrest City – a 61-megawatt farm that will power Google's $600 million data-center expansion in Lenoir, NC, once completed.
North Carolina currently ranks as having the third highest amount of solar on its power grid in the country. If all of Cypress Creek's projects are completed, we could move up to #2 in the nation.
The company is now hoping to complete all 15 North Carolina solar farms by the end of this year.
Comments
comments