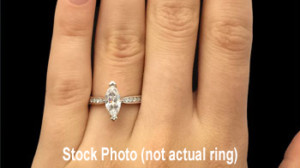 Denrele Edun is a Nigerian and Indian-Mauritian media personality with an interesting lifestyle and a cross-dressing fashion sense. He has been regarded as both beautiful and handsome by many and has spent most of his years since childhood pursuing what he loves. Recently, Denrele divulged that his mother bought him a gia certified diamond ring to propose to a lady because she was so eager for him to be married.
Denrele's Mother had to make the move for getting his Son an Engagement Ring
The show host, actor, dancer model, and fashionista a will be turning 40 soon. Yet, he had expressed himself as one not interested in the institution of marriage. He went on to say that he had not been so lucky with love and that finding someone to reciprocate his love has been a very hard one.
Before Denrele came out to say this, the average Nigerian would have thought him to be gay – an insinuation from his love for cross-dressing. Such personality is seen as controversial in Nigeria. However, Denrele does not seem to be moved by all of this. He said he just wants to be himself and stay happy.
Sometimes ago, there was a lot of news flying around that Denrele Edun was dating a male artiste. Denrele has remained indifferent about it and said he checked himself from reacting to such claims. His recent stand now is that he is dating himself. He has also given the notion that the situation might not change anytime soon.
Denrele does not deny the fact that he has had sexual affiliations with women in times past. Neither does he deny the fact that he is still sexually active. He has only made it obvious that he might never get to use the diamond ring his mother bought for him for engaging a lady. He strictly considers the concept of marriage not worth it.
He confessed that in previous times when he had expressed love to someone, he didn't get a commensurate amount of love back. That has been so hurtful for the multi-talented star who has now resolved to shun marriage.
Denrele Unrelenting Pursuit for his Passion inspires many
Away from Denrele's love life and diamond ring saga, the celebrity has remained a source of motivation for many youths, especially young Nigerians who have found out that he is also of Nigerian descent. The celebrity has achieved no small feat both at home and abroad. He is the host for many popular Nigerian shows, has featured in some movies, has bagged many awards, and has interviewed many celebrities, Nigerian or otherwise.
He has been actively involved in his passion from a very young age when he and his family moved into Lagos from Germany where he was born. Today, Denrele Edun handles shows locally and internationally. He also drives heavy traffic on social media with his incredible fashion sense and modeling prowess.
At other times when he is not interviewing a celebrity, handling a show, or modeling, he is probably acting or dancing. In all, Denrele's is an inspiring personality. Asides from his dressing and hairdo which some will find controversial, he has not been said to be involved in any scandal. He also appears to always exude positive energy to all those around him.
Knowing all this about Denrele Edun, one will probably feel for his kind mother who wants her son to get married so bad that she had bought him a diamond ring he could use to propose. The choice remains Denrele's though. The mother, siblings, and all other fans who are interested in his love life can only stay hopeful or at best resolve to stay indifferent about the subject.
Comments
comments