After several companies musicians and acts have expressed outrage at North Carolina's new HB2 law, some have decided to not even come to the state, including legendary rock group U2, and Cirque du Soleil. Others are sticking to their commitments, especially after the governor's recent executive order, which repealed sections of the new law.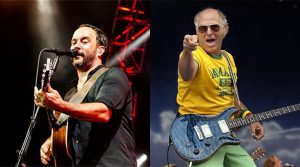 Some of the year's most significant events have announced that even though they may not agree with HB2, they are still excited to come to Charlotte. The NBA's All-Star game presented the most vocal opposition to the new law, but recently confirmed that they will still host the games in Charlotte.
2 of this year's biggest concerts, Jimmy Buffet on April 23rd, and The Dave Matthews Band on May 27th have also announced that they have no intentions of changing their plans. Jimmy Buffet released a statement specifically addressed to his fans, "North Carolina was there for me as a performer in the early days and I have always felt a loyalty to fans there that goes deep…We will be playing in Raleigh and Charlotte next week."
Evangelist Franklin Graham recently spoke out against PayPal's decision to cancel their contract, calling the California tech company hypocritical. Graham, CEO of the locally based Billy Graham Evangelistic Association, joins a slew of prominent figures and companies who have expressed strong opinions on the new state law passed last month.
In his post, which includes the hashtags #NCprivacyandsafety and #StoptheBullying, Graham referenced a comment made by U.S. Rep. Robert Pittenger (R-N.C.) that PayPal does "business in 25 countries where homosexual behavior is illegal."
What do you think about HB2 – should people boycott our state if they don't agree with it?
[one_third]


[/one_third] [one_third]


[/one_third] [one_third_last]


[/one_third_last]
Comments
comments