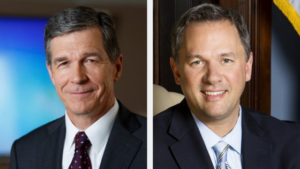 Republican Governor challenger Dan Forest has just agreed to debate current Democratic Governor Roy Cooper in what is currently North Carolina's only scheduled gubernatorial race debate of 2020.
Yesterday, WRAL reported that Cooper had accepted the debate in the morning and the Forest campaign accepted it later in the day.
The debate is now scheduled for October 14th and will be organized by the NC Association of Broadcasters.
It's unclear at this point whether or not Libertarian candidate Steven DiFiore or Constitution Party candidate Al Pisano will also be participating in the debate.
Comments
comments