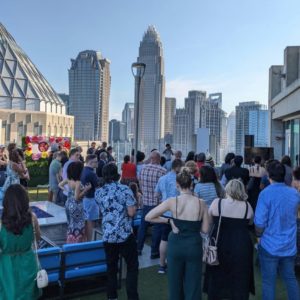 Crave Charlotte is returning this year for their 3rd annual food, wine and mixology festival.
The multi-day event will highlight over 25 of Charlotte's finest chefs, restaurants, mixologists and winemakers from May 3 to May 8.
This year, Crave Charlotte Food & Wine Festival will introduce and host its main event, the Grand Culinary Celebration, at Romare Bearden Park on Saturday, May 7.
"The Crave Charlotte Food and Wine Festival highlights the creativity, vibrance and cultural essence of the growing Queen City–a community that SouthEnd Dentistry is proud to be a part of for 13 years with the mission to provide the best in dental care, utilizing the latest in technology in a soothing environment," said President of SouthEnd Dentistry, Dr. Bradford L. Picot. "A few of SouthEnd Dentistry's core values are service, giving back, and innovation, which is why we are glad to sponsor this event in support of beneficiary Envision Charlotte." 
The Grand Culinary Celebration and restaurant based dinners will offer a variety of high-quality dishes and experiences from top culinary professionals from across the city. Participants will experience wine pairings, exceptional plates, cocktails and craft brews.
Participating chefs and mixologists include:
Sam Allen–Wentworth & Fenn

Amari Arrington–Chunk's Chicken

Kevin Atkinson–Angeline's

Craig Barbour–Roots Café

Geoff Bragg– The Common Market

Amanda Britton–Lincoln Street Kitchen & Cocktails

Chris Coleman–The Goodyear House

Amanda Cranford–Paper Plane Deli & The Hangar

William Dissen–Haymaker

Hau Doan–Banh Mi Brothers

Kyle Duncan Gaddas– The Wine Loft

"Chef T" Torrece Gregoire – Former Hell's Kitchen Contestant

James Jeffries–Grinning Mule

Andarrio Johnson–Cuzzo's Cuisine

Taylor Kastl–Tayste Catering

Duke Kroger–Cinder

Erik Lujan–Nuvole

Olajuwon Mason–Fine and Fettle

Tiore McFarland–Ready Prep Eat Catering

Mariana Ramos–Sweet Mary Gourmet

Sylvain Rivet–Renaissance Pâtisserie

Brooke Rush–Food Director of Not Just Coffee, Night Swim Coffee and Undercurrent Coffee

Ashley Sarkis–Mixologist

David Schmidt–Fine & Fettle

Henry Schmulling–Nuvole

Julia Simon–Plant Joy CLT

Drew Ward–Brewers at 4001 Yancey

Evan Wood–Green Coffee Buyer and Director of Coffee at Night Swim Coffee

TBA–Golden Owl Tavern

More to be announced
Crave Charlotte is presented by Extreme Property Services and Greystar Apartments. All proceeds from the event will benefit Envision Charlotte, a public private plus collaborative that leads Charlotte's progress as a global circular and smart City through innovations that strengthen economic competitiveness, environmental sustainability and positive community impacts. More information including the full schedule, tickets and updated list of chefs and mixologists can be found at craveclt.org  and facebook.com/craveclt.
For safety, event organizers will continue to monitor and adhere to Mecklenburg County and North Carolina health guidelines.
Comments
comments