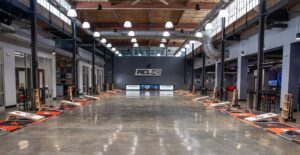 It's not just a backyard sport anymore; it's the real deal. 256 professional cornhole players and over 800 amateurs from across the country will gather in Rock Hill, SC starting Monday, Aug. 2 to attend the American Cornhole League World Championships.
Just 30 minutes south of Charlotte, the event will begin on Aug. 2 and run through Aug. 8. The exact address is 326 Technology Center Way, Rock Hill, SC 29730.
In attendance will be ESPN personalities Ryan McGee and Marty Smith, plus former Carolina Panthers running backs Jonathan Stewart and Mike Tolbert. The four VIP guests will each be paired with an ACL Pro and go head-to-head in a televised cornhole tournament at Friday's ACL Pro Celebrity event, which will air on ESPN2 at 8:00pm EST for ESPN's infamous Ocho Day.
Open to the public, the World Championships expect to draw a crowd of approximately 2,500 people to the newly renovated Sports and Events Center in Historic Downtown Rock Hill. Just minutes away from the future Carolina Panthers headquarters, the space is also the newfound headquarters of the American Cornhole League after previously being based in the Queen City.
The national sports organization relocated in late 2020 after experiencing exponential growth despite the Covid-19 pandemic. This growth was largely due to the profound scarcity of televised sporting events once lockdown commenced. Cornhole thrived due to its low-contact nature and flexibility of the sport, making it ideal content for ESPN coverage.
At the World Championships, the 256 ACL Pros will duke it out to claim highly-coveted titles including Man of the Year, Woman of the Year, Pro Singles Champion, Pro Doubles Champion, and more.
Guests can enjoy choice food and beverages, play in blind draw tournaments, purchase merchandise from local vendors, visit the new ACL Headquarters, and sit courtside while watching the ESPN-televised broadcasts.
There is no entry fee to attend, but parking is available for $5.00 per car per day.
Chief Marketing Officer Trey Ryder stated, "We couldn't be more excited to be hosting the ACL World Championships here in our home of Rock Hill, SC! With over 1000 of the best cornhole players in the world flocking to the region, fans will be spoiled with seven days of competitive play, over 40 hours of livestream coverage, and six hours of ESPN television coverage."
ESPN will cover the following events during the American Cornhole League World Championships:
August 5 – ACL Pro Singles Bracket Finals at 8:00pm EST on ESPN3
August 6 – ACL Pro Celebrity Event at 8:00pm EST on ESPN2
August 7 – ACL Pro Singles Playoff and Co-Ed Doubles Final at 1:00pm EST on ESPN
August 8 – ACL Pro Doubles Playoff and Women's Doubles Final at 1:00pm EST on ESPN2
For more information, please visit www.iplaycornhole.com/championships.
Comments
comments