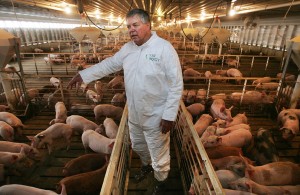 Colorado company Carbon Cycle Energy will break ground this coming Thursday on a $100 million biogas plant near Warsaw, NC that will be expected to produce at least 2.4 million dekatherms of natural-gas quality methane each year.
Duke Energy has a contract to buy 1 million dekatherms of that gas, which it will then use to power at least 100,000 homes in North Carolina.
"It is encouraging to see the technological advances that allow waste-to-energy projects in North Carolina to be done in an environmentally responsible and cost-effective manner for our customers," said David Fountain, Duke Energy president.
North Carolina's Renewable Energy Portfolio Standard (REPS) regulations now require Duke Energy to meet even higher compliance targets for renewable energy. Their new pig waste methane program will purchase about 1 million MMBtus of pipeline-quality methane each year – just enough to satisfy the REPS regulations.
"This is a big development for biogas in North Carolina. It will be a major part of Duke Energy's efforts to meet the (renewable energy requirements) for swine waste-to-power in the state." commented Duke spokesman Randy Wheeless in their press release.
The swine poop will be delivered to the facility via air-tight sealed trucks to prevent odor problems for residents who live in the region. The company believes the sealed transport will actually reduce swine odor problems in the region.
The plant is now anticipating that between 70 to 80 trucks will be delivering the waste to the plant on a daily basis – the company says it will route the trucks around all major towns so the swine waste won't be driving through populated areas.
What do you think about this new method of power?
Comments
comments