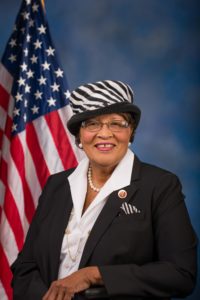 Dr. Alma S. Adams, representative for the 12th congressional district of North Carolina, will deliver the keynote address during Johnson C. Smith University's commencement exercises for the Class of 2020 and the Class of 2021 at 11 a.m. on Sunday, May 16, 2021. The event will be held at Bojangles Coliseum, 2700 E. Independence Blvd.
Adams holds several leadership roles in Congress and is co-founder of the Black Maternal Health Caucus with Rep. Lauren Underwood of Illinois and the founder and co-chair of the Congressional Bipartisan Historically Black Colleges and Universities (HBCU) Caucus, which promotes bipartisan legislation that supports HBCUs and their graduates. Since its inception, the Caucus has:
Procured $1.3 billion in funds for HBCUs to rebuild their campus infrastructure.
Secured additions to the Farm Bill, which includes 40 million dollars to HBCUs for scholarships, funding for newly established Centers of Excellence in agriculture, and additional funding for agricultural research and cooperative extension for 1890 land grant universities.
Established the annual HBCU Braintrust, which allows faculty, staff and students from historically black colleges to visit the nation's capital to promote their institutions with government officials and corporate leaders.
Her signature legislative accomplishment in Congress is the enactment of H.R. 5363, the Fostering Undergraduate Talent by Unlocking Resources for Education (FUTURE) Act that permanently provides funding totaling $255 million a year for all Minority-Serving Institutions, including $85 million for HBCUs.
During commencement, the University will also confer upon Adams an honorary Doctor of Humane Letters degree.
The University will hold a baccalaureate service for the Classes of 2020 and 2021 on Friday, May 14 at 6 p.m. in the Jane M. Smith Memorial Church. The guest speaker is Dr. Kevin R. Johnson, founding Lead Pastor of Dare to Imagine Church, Inc. in Philadelphia. Johnson also serves as the founder and President & CEO of Dare to Imagine Community Development Corporation.
Comments
comments