The financial analyst website 247wallst.com recently released a new report detailing the most commonly spoken foreign languages in each state, and their findings for the Carolinas might surprise you.
They note at the front of the article that since over 40 million Americans speak Spanish at home, it's kind of an unofficial 'second language' for Americans, rather than a true 'foreign language'.
They used the most recent data from the U.S. Census Bureau's American Consumer Survey on languages spoken most often at home to find the third most prevalent language in each state, behind English and Spanish.
The report found that the most commonly spoken foreign language in North Carolina is French, with a total of 26,381 residents claiming to speak French at home (about 0.3% of the total population).
"Almost 1% of the population in North Carolina have French ancestry, 89,807 to be exact. While Spanish dominates the near 11% of languages other than English spoken in North Carolina, French doesn't follow too far behind, making it the most popular spoken foreign language under this list's requirements."
A few small towns have significant French-speaking populations, including Waves, NC (20.83%) and Corolla, NC (8.5%), both on the Outer Banks, and Caroleen, NC (10.54%), about half-way between Charlotte and Asheville. Davidson, Cornelius, and Waxhaw all have French-speaking populations of 3-4%, and Charlotte has a French-speaking population of about 1.87%, according to ZipAtlas.com;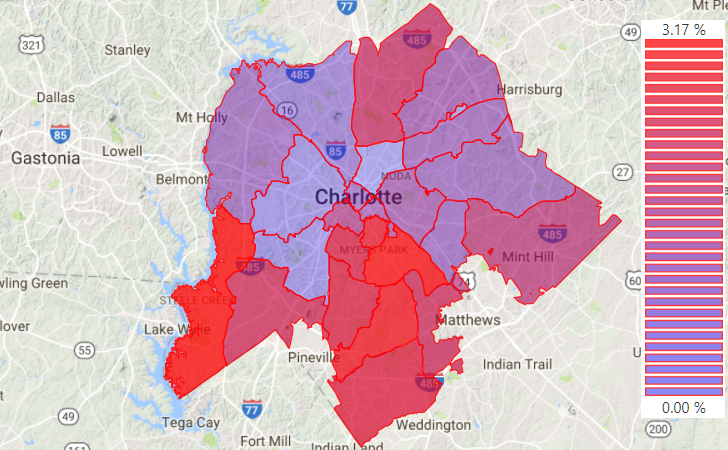 The report also lists the most popular foreign language in South Carolina as being German (about 0.3% of the total population).
"German ancestry again far surpasses the number of people who actually speak the language in South Carolina. Approximately 7% of the population has ancestors from Germany, while only 0.3% speak German."
According to ZipAtlas.com, a couple bigger towns in South Carolina have significant German-speaking populations. About 25.39% of Gilbert, SC (pop. 7,770) and about 24.94% of Chapin, SC (pop. 11,929) speak German – both of which are suburbs of Columbia, SC.
About 14.62% of Fort Mill's (pop. 30,000+) residents also speak German.
Do you speak more than 1 language? 
Comments
comments