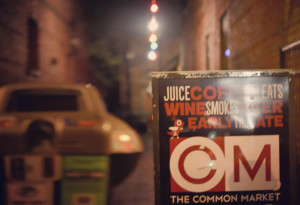 The Legendary Common Market in South End is about to close it's doors for good…at least until they find their new South End location.
They've been an cultural hub and genuine hangout spot for Southend, Wilmore, Dilworth, and even Uptown Charlotte for the past 7 years, originally opening it's graffitied doors and patio in 2009.
In true Common Market style, they'll be going out with a bang – throwing a massive 'Season Finale' party (July 22nd) just 9 days before they close their doors for good (July 31st).
The block they sit on, and where the old South End Food Truck Rally used to be held, was sold to make way for a new office building, which will be anchored by Dimensional Fund Advisor's new headquarters.
Co-Owners Chuck Barger and Blake Barnes said they are aggressively searching South End and surrounding neighborhoods for their new location, "Hopefully we will have more to announce by the beginning of July," commented Barger.
Their 'Season Finale' party will feature:
Music by The Business People, StereoLoud, Black Kostume, JaggerMouth, Kang, and Jistu
Specialty exotic beer from Founders Brewing Co., The Bruery Tart, Bell's Brewery, and Ballast Point.
And local beers on tap in the parking lot from OMB, Birdsong, Lenny Boy, Great Lakes, Triple C, Three Spirits, Wicked Weed, Windy Hill Cider, and more.
The Common Market South End Season Finale Party
Friday, July 22, 2016
6 pm – 11pm
1515 S Tryon St.
Charlotte, NC 28203
The party will be in the parking lot, so don't forget your lawn chair!
Comments
comments