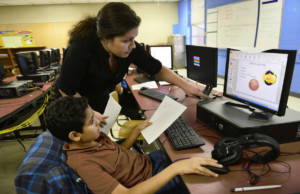 In a press conference today, CMS HR Officer Avery Mitchell discussed the large amount of vacancies still left to fill at CMS for both teachers and bus drivers.
"With more than 12 days to hire prior to the students' first day of school, we have 114 teacher vacancies," Mitchell commented.
Given that's only about 1 percent of their total teaching workforce, school leaders are hopeful that the positions will be filled soon.
They also need an additional 90 certified bus drivers, and until those positions are filled, they'll have to rely on temporary drivers for each route.
Superintendent Ann Clark also discussed the district's transgender anti-bullying policy, and the fact that they will not be allowing students to use bathrooms based on their gender expression. She noted that following the recent Supreme Court ruling in Virginia, all CMS students will be required to use the restrooms and locker rooms that align with their biological gender.
Clark also introduced a new K-9 employee for the school system that will help with drug detection. "Gage is our K-9 partner; he's a beautiful 2-year-old lab. He's the newest and probably youngest member of CMS," she commented.
Gage has been extensively trained to sniff out marijuana, heroin, cocaine, ecstasy and meth outside of backpacks, lockers, and cars.
If you'd like to apply for any of their open teaching or bus driving positions, you can apply on their job board here.
Please help spread the word:
Comments
comments