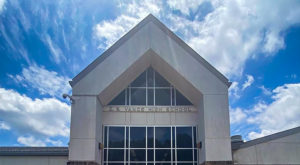 CMS district leaders have just officially announced that they will be changing the name of Vance High School to Julius L. Chambers High School.
The decision comes about 4 months after the board made the decision to rename all Charlotte area schools with names tied to the confederacy and racism.
Superintendent Winston noted that one of the first names to be changed is Z.B. Vance High School, which was originally named after Zebulon B. Vance, a North Carolina governor who owned slaves and who fought to preserve the institution of slavery and the rebellion of the confederate states.
"Vance owned slaves and as governor of North Carolina spoke out against and fought anti-discrimination laws and other protections for racial minorities. His is not the example we want to project for our students, families and staff," said Winston.
The board was considering 3 new names for Vance; University City High School, Queen City High School and Julius L. Chambers High School. After a survey of over 500 students and 1,200 local residents, Julius L. Chambers came out on top.
Chambers was a significant civil rights leader in the 60s and 70s and in 1971, he won a major Supreme Court ruling that desegregated buses in Charlotte, which allowed for integration throughout the Charlotte Mecklenburg School District.
What do you think about the decision?
Comments
comments