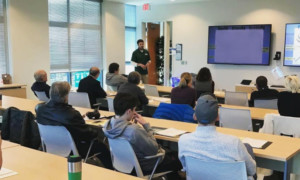 With the number of mass shooting in our nation continuing to rise, CMPD is increasing their efforts to train Charlotte residents on how to survive a mass shooting.
Next month, they will be holding a free Active Survival Training class on CPCC's Huntersville Campus. The class will last about 2 hours between 6pm-8pm on Sept. 4th at the following address:
11920 Verhoeff Drive
Belk Building, CJ 131
Huntersville, NC 28078
View Map
You can register for the class for free here.
Earlier this week CMPD's Active Survival Expert LT. Steve Huber shared the following tips for surviving an active shooter situation on an episode of CMPD's CopCast Podcast:
A moving target is a hard target to hit – you've got to keep moving.
There are nontraditional exits that you don't think about in every building – through a kitchen, a loading dock, or a window.
You have to control yourself, you have to control your emotions and your breathing. 5 minutes a day of focused breathing will help you with this.
About 40% of people think gunfire is fireworks when they hear it. If you hear something that sounds like fireworks in a location that you know shouldn't be fireworks, you have to react as if it's gunfire.
Here is the complete episode;
Comments
comments