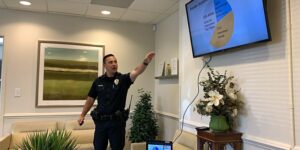 The Charlotte Mecklenburg Police Department has just announced plans to launch a new free active shooter training and preparedness workshop next month.
The new workshop is designed to provide and empower individuals with option-based survival skills to stay alive until law enforcement arrives.
You are invited! #CMPD is conducting its free active shooter training and preparedness education workshop on Apr. 21st 6:30 PM – 8:30 PM. Learn effective response plans and how to communicate during an active shooter crisis. #clt #cltnews Register Here: https://t.co/Oz6SkSuNEN pic.twitter.com/u71NLIDfb6

— CMPD News (@CMPD) March 18, 2022
Topics to be discussed:
Lessons Learned from Prior Events
Evolution of Law Enforcement Response
Workplace Violence
Human Response to Stress
Actions to take if encountered with an active shooting
Basic First Aid
How to React When Law Enforcement Arrives
You can find out more information or register for free here.
Comments
comments