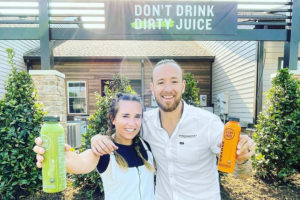 Charlotte's own Clean Juice will be hosting a grand opening celebration of their new flagship store in Birkdale Landing.
The first 50 customers will receive free Clean Juice for a year, and all customers can register throughout the day to win a Jettie electric scooter. Several special discounts on organic food will be offered throughout the day and guests can spin a prize wheel to win free products and other offers. Kids activities, including face painting, will be from 2 p.m. to 5 p.m.
The new flagship store features several enhancements to the on-site preparation and ordering of Clean Juice's menu offerings and juice cleanse products, improving the customer experience. The new store is introducing a self-ordering kiosk and has carved out space for a double-sided fridge to allow online and app orders to be loaded and picked quickly and easily. In addition to a dynamic digital menu board, the store will also feature a large viewing window where customers can watch Juiceristas at work preparing Clean Juice's signature cold-pressed juices.
The grand opening celebration will take place on Saturday, July 10, 2021 from
7 a.m. – 8 p.m. at Clean Juice, Birkdale Landing, 16627 Birkdale Commons Parkway, Suite E-120 Huntersville, NC.
You can find out more information on their grand opening event page here.
Comments
comments