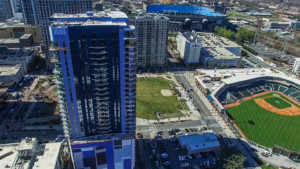 As the economy continues its historic streak of job growth, a healthy supply of new housing construction is needed to keep pace with increased demand. A new report by Apartment List found that approved housing development remains 38% below its pre-recession peak.
The report revealed that a select group of coastal markets and stagnant single family home construction are to blame, potentially preventing affordability woes from being alleviated. Smaller metros and booming multifamily construction, on the other hand, are picking up the slack.
According to the report, the City of Charlotte was one of the few large metros that has allowed significant increases in housing development:
An average of 6.6 new housing units per 1,000 residents were permitted in Charlotte from 2008 to 2018. The rate of permitting activity ranks #5 among the nation's 50 largest metros.
Over the same period, Charlotte added 7.8 jobs per 1,000 residents, ranking #10. This implies that 1.2 jobs were added for every new housing unit in the metro, a level which indicates a balance between supply and demand for new housing.
Since 2006, multifamily units have accounted for 31% of housing permits in Charlotte, compared to 22% in the pre-recession period from 1990-2005. Nationally, the multi-family permit share increased from 23.4% in the pre-recession period to 33.9% in more recent years.
Comments
comments