Charlotte's Department of Transportation (CDOT), CMPD, and Charlotte Center City Partners have joined forces to launch a new pilot program in South End using the TravelSafely Smart Phone App.
The goal of the new program is to use AI technology to tie in the movements of drivers, walkers, and bikers with streetlights, crosswalk indicators, and smartphone alerts.
The app will use the data of South End residents to give the following notifications:
Get ready for green – Notifies users when the light is about to turn green.

Red light warning – Warns users approaching a red light if they are approaching the intersection too fast.

Slow speed zone warning – Notifies users if they are traveling too fast in a slow speed zone.

Cyclist ahead warning – Warns motorists if a cyclist is using the app on the road ahead.

Pedestrian ahead warning – Notifies motorists of pedestrians using the app in the crosswalk ahead if it detects the motorist is not going to stop.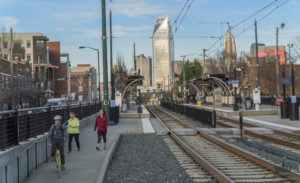 "We must work together to improve traffic safety and this app promotes connectivity to each other and to our surroundings," Charlotte Council Member Victoria Watlington noted. "The app is another tool that will help us improve safety for all people using our roads and I encourage everyone to download the app and use it in the South End pilot project area."
The app is part of the city's Vision Zero safety initiative that seeks to eliminate traffic deaths and serious injuries. All information shared on the app is anonymous and protected.
"We are excited to incorporate TravelSafely in Charlotte," says Justin Carroll, deputy director of CDOT. "It will improve CDOT's use of cutting-edge technology and connect those who download the app to a network of traffic intersections, pedestrian beacons, motorists, cyclists and pedestrians."
CDOT has partnered with Charlotte Center City Partners to ensure residents and visitors in the South End area know about the opportunity to participate in the pilot, which will allow staff to evaluate and compare before and after crash data. Collaboration with the Charlotte-Mecklenburg Police Department (CMPD) was also vital in the implementation of the pilot project and will continue to be instrumental in making Charlotte streets safer for all.
"The Charlotte-Mecklenburg Police Department works hand-in-hand with our partners at CDOT to address transportation safety and we are excited about the potential of the TravelSafely app to make the roads and sidewalks of South End safer places to walk, run, bike and drive," says CMPD Major Dave Johnson. "Leveraging technology is the future of traffic safety and piloting this app positions Charlotte at the cutting edge."
South End residents should download the app on the Apple App Store or Google Play Store.
The City of Charlotte is asking residents to give feedback about the user experience and how beneficial the system is.
To learn more and provide feedback, visit PublicInput.com/travelsafelyclt or send an email to travelsafelyclt@PublicInput.com.
Comments
comments