As dozens of new apartment complexes continue to rise all around South Charlotte, traffic jams and accidents are becoming an increasingly common occurrence.
At today's City Council meeting, a controversial new measure was approved in hopes of combating this growing congestion problem – urban toll roads.
Starting on April 1st, 2019, the following 'free' roads will become urban toll roads (new toll roads in red):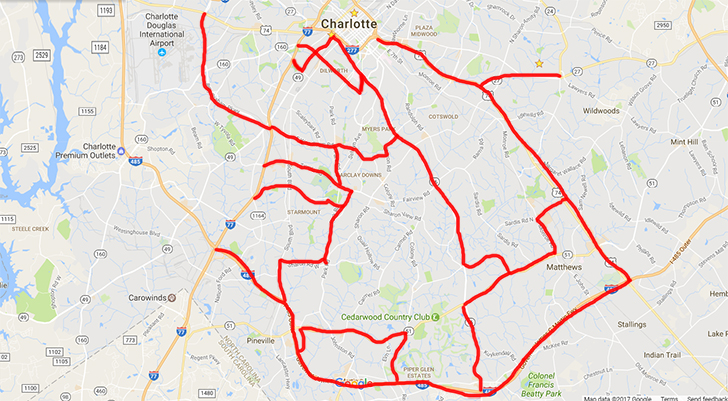 The city hopes that by adding tolls to most of the busiest roads in South Charlotte, they will be able to decrease the number of cars on the road and increase public transportation usage.
Unlike the new toll lanes on I-77, the new toll roads in South Charlotte will not offer drivers an option – all drivers must pay – even if they turn on the road by mistake. The average cost to drivers will be $7.04/mile and will be charged through a new automated camera system. The city signed a contract with Spanish road construction company Cymtra to build and manage the tolls after receiving a sizable kick-back.
Cymtra has agreed to pay the city 5% of all revenue generated from the tolls. Charlotte hopes to use the new toll revenue to build several dozen new streetcar lines, primarily to underpopulated areas.
Construction is set to begin on the new toll roads this coming April 1st, 2019 and is expected to be completed by April 1st, 2019 (April Fools Day).
Please note that this article was written for April Fools Day, the city is not actually building toll roads in South Charlotte (other than the planned toll lanes on 485 and Independence). The company "Cymtra" does not exist…although it does kinda sounds like another Charlotte-area toll building company…hmmm. 
Comments
comments