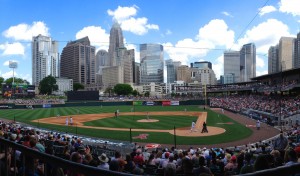 This coming Spring, the Charlotte Knights will start their 5th season in the now-famous BB&T Ballpark in Uptown Charlotte (ranked as the best minor league ballpark in America), and their 20th season as the top minor league affiliate for the Chicago White Sox.
To celebrate this milestone, the Chicago White Sox have announced they will be coming to the Queen City to play the Charlotte Knights in an exhibition game at the BB&T Ballpark. This will be the 4th time in the 20 year history of the Knights that the 2 teams have faced off.
"We are extremely excited to have the White Sox finish their 2018 exhibition schedule with a visit to BB&T Ballpark in Charlotte, one of the finest facilities in Minor League Baseball," said Chris Getz, White Sox Director of Player Development. "We are extremely proud of our relationship with the Knights, who have served as a fantastic partner for our organization. We are looking forward to visiting Uptown Charlotte next March to show the Knights fans how instrumental their team has been in the success of many of our young players."
The Knights will be selling special collectible jerseys featuring 20th Season Commemorative Logos. A patch with the new logo will be sewn onto all home white jerseys for the 2018 season, and the team will wear special 20th Season jerseys on select nights during the 2018 season;
The Chicago White Sox will come to Charlotte to take on the Charlotte Knights on March 26th at 6:05pm. Tickets are now on sale at TicketNetwork.com starting at $28 each.
Comments
comments