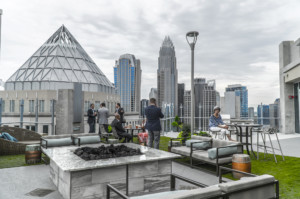 In spite of Charlotte insatiable apartment development boom, rates across the city are still rising at a record pace.
According to ApartmentList.com's latest report, Charlotte rents increased 0.7% over the past month, and are up 4.3% since last year. Median rents in Charlotte now stand at $950 for a one-bedroom apartment and $1,100 for a two-bedroom.
June was the fifth straight month that our city saw rents increase after a decline in January. Charlotte's year-over-year rent growth now leads the state average of 4.1%, as well as the national average of 2.9%.
The report also indicated that:
Charlotte now has the 3rd highest average rental rates in the state for a 2 bedroom at $1,100 (just below Cary's $1,220 and Raleigh's $1,120).
Median rent prices here prove to be more affordable than comparable cities nationwide – Charlotte's median two-bedroom rent is below the national average of $1,150.
While Charlotte's rents rose over the past year, some cities nationwide saw decreases, including Miami (-1.1%) and San Francisco (-0.6%).
Comments
comments