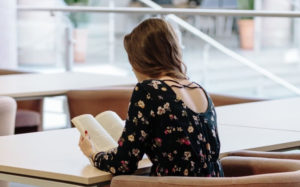 Audra wanted to believe her abusive, controlling ex-partner—so different from the man she fell in love with—could have a relationship with their child, but the alarming signs told her otherwise. Even after he moved out, he continued to stalk and threaten Audra – harassing her employer and friends, violating Domestic Violence Protection Orders (DVPOs) and restraining orders, making false and damaging reports to Child Protective Services. But Audra, who worked with Safe Alliance's Victim Assistance Court Program, refused to be defeated by relentless psychological, physical and financial abuse.
"Safe Alliance was a lifeline for me, and still is. They showed me that I deserve to live a life without harassment and fear," said Audra. "The work that Safe Alliance does – that changes lives. That saves lives. It gives people the strength to continue moving forward."
The Victim Assistance Court Program assists sexual assault and domestic violence survivors like Audra, empowering and educating them about their free legal and non-legal options. The program helps survivors obtain 50B DVPOs and 50C No-Contact Orders for Stalking or Nonconsensual Sexual Conduct, which are crucial components of safety planning. In addition, this is the only program in North Carolina that has 100% of DVPOs reviewed by an attorney prior to filing them with the Clerk of Court.
Jamie Sellers, Director of Victim Assistance, described the program as "vital" to Safe Alliance's mission to bring hope and healing to survivors.
"Our staff, volunteers and interns make an impact daily in the lives of those who seek our services. We work diligently each day to assist survivors in our office, in court and over the phone," said Sellers.
The Victim Assistance Court Program also provides legal representation referrals for DVPO hearings; safety planning; crisis intervention; photo documentation of injuries; accompaniment and support to civil and criminal court cases; community referrals; assistance in survivors' primary language or languages; and adult and children's support groups.
Sellers noted that safety planning and empowering survivors are their top priorities.
"It is rewarding to work with survivors to help empower and support them as well as help them feel safe – physically, mentally and emotionally."
Located 800 E. 4th St., Suite 310, in Charlotte, the Victim Assistance Court Program is available to see clients on a walk-in basis (no appointment needed) Monday-Friday from 8 a.m.-5 p.m.
Call 704.312.1667 for more information.
Comments
comments