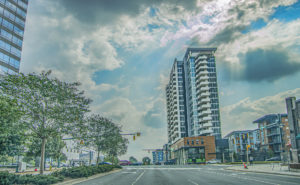 Across the country, rents are rising rapidly. In Charlotte specifically, the median rent price is up 13% since January, growing significantly faster than during pre-pandemic years. A big reason is vacant apartments in Charlotte are becoming increasingly scarce. While rents are up 13%, the local vacancy rate has fallen to less than 5%. The chart below shows this relationship between rents and vacancies playing out on the national scale.
Rapid household formation post-pandemic has pushed the total number of households in the US to an all-time high: more than 131 million.

Meanwhile, the for-sale housing market is plagued by high prices and low inventory, keeping more families renting for longer.

As a result, the sheer volume of people hunting for apartments online is higher today than ever before.

Facing a highly competitive rental market, apartment hunters are searching today with heightened urgency.

As more households compete for fewer apartments, historically low vacancy rates allow property managers to be highly selective and raise prices.
What do you think is causing our current market conditions? 
Do you think it will improve anytime soon? 
Comments
comments