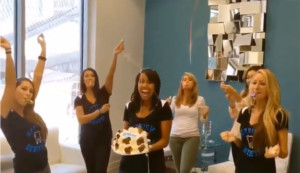 Skyview Dentistry is celebrating it's one year anniversary in the Epicentre, a remarkable feat for any new business. The local startup went out on a limb when they chose to locate on one of the top floors of our city's entertainment hub, but the gamble really seems to be paying off for them.
They've already managed to earn a spot on Elevate Lifestyle Magazine's "Best of The City" list, and continue to maintain a perfect 5 star rating on Yelp – which is especially impressive considering how much most people hate the dentist.
Their two biggest keys to success seem to be their forward-thinking use of technology and their focus on the patient experience. Dr. Byrd's vision for the practice was, and continues to be, to provide first class care in a relaxing and spa-like environment.
Each patient sits in a memory foam massage chairs, and can watch their favorite Netflix shows on Smart LED monitors with noise-canceling headphones. They use the latest dental technology such as low radiation digital X-rays and laser dentistry. Their high tech Solea laser allows them to fill cavities without anesthesia (the dreaded shot) and the noisy drill.
They also continue to find powerful ways to support and engage Charlotte's local community.
They are now offering free teeth whitening to all first time guests, schedule an appointment or find out more on their website here.
Comments
comments