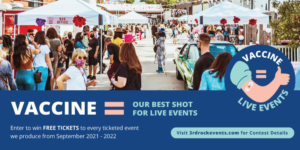 Today, Third Rock Events, an award-winning event production company based in Charlotte, announces a campaign to encourage more people to get the COVID-19 vaccination  with a goal to help protect the live events industry. The campaign, Our Best Shot for Live Events, will include two contests to celebrate those who are currently vaccinated and to encourage new vaccinations. The first contest is for currently vaccinated individuals to enter to win a VIP table for 10 at the South End Hops & Wine Fest in October. The second contest is for newly vaccinated individuals who can enter to win tickets to every event organized by Third Rock Events for a year.
Third Rock Events designed its vaccination campaign to support the safe continuation of live events, which serves to provide social and physical health benefits to attendees and financial security to workers in the industry.
"The live events industry has been the first to close and the last to re-open in the face of a public health crisis like the coronavirus pandemic," said Shawn Cosner, Owner of Third Rock Events. "When we saw a rise in new cases, we knew we had to do something as a leader in live events production. We needed to take action to not only protect our event attendees, but to assist the many small business owners and entertainers in the industry."
To participate in Third Rock Events' Our Best Shot for Live Events campaign, individuals who are fully vaccinated for COVID-19 prior to August 23, 2021 should visit 3rdrockevents.com and submit a photo of their vaccination card for a chance to win a VIP table at the fall South End Wine & Hops Fest. Individuals who begin their vaccination during the campaign between August 23 and September 3 should also visit the website and submit proof of their first dose of the COVID-19 vaccine, or a copy of their full vaccination card to be entered into an entry for two free tickets to every event produced by Third Rock Events from September 2021 to September 22. The entries will apply to the following events: South End Wine & Hops Fest in the fall, Skate with PRIDE, University City Wine Festival, Crave Charlotte, Spring South End Wine & Hops Fest in the spring, and the Homegrown Tomato Festival.
Third Rock Event productions are implemented with safety as a top priority. All attendees are asked to practice social distancing and wear masks if they are unvaccinated. Mecklenburg County reports that 51% of its residents are fully vaccinated as of August 19. Third Rock Events looks forward to seeing an increase in the number of fully vaccinated individuals. More information about the campaign and safety protocols are available at  3rdrockevents.com.
Comments
comments