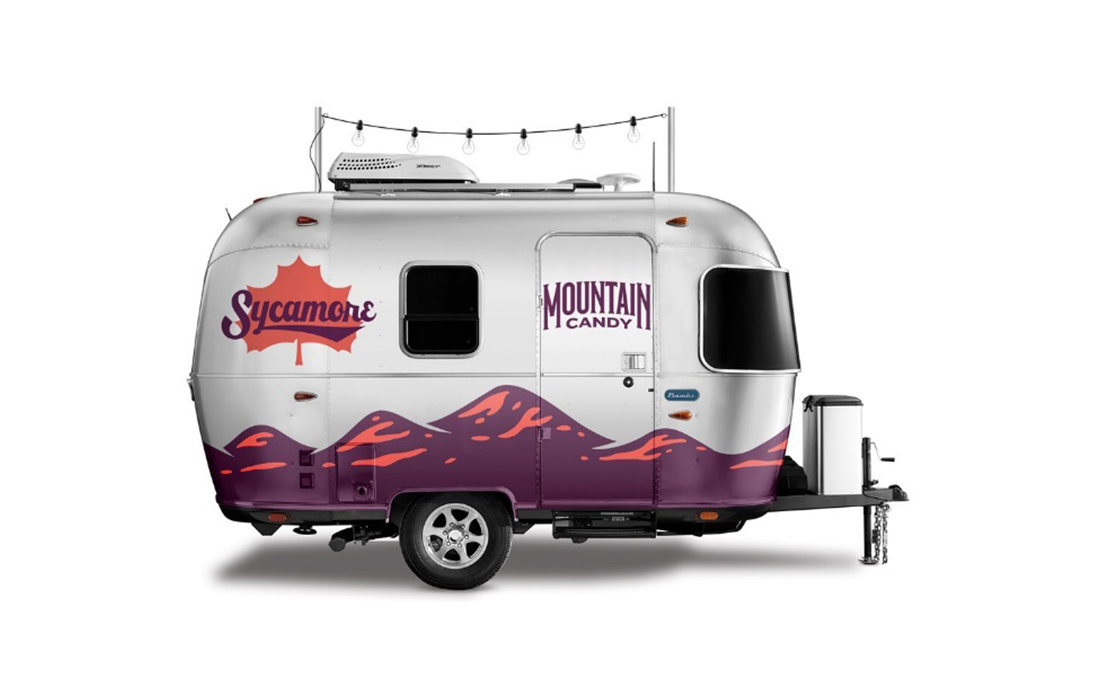 In honor of National American Beer Day on October 27, Charlotte's Sycamore Brewing has decided to extend its Candy Camper Giveaway Contest for the chance to win a one-of-a-kind, 16-foot, branded Airstream camper.
From now through December 31, participants 21+ who post a creative video on TikTok, Instagram or YouTube featuring a Sycamore beer and tag #CandyCamperContest will be automatically entered to win. The Mountain Candy-branded Airstream Bambi includes a fully stocked beer fridge and a Mountain Candy-themed package complete with a hammock, surfboard, string lights and party games.
"The giveaway instructions are simple – get wacky, get weird! You're the star of the show, but a Sycamore beer can must make an appearance in your video," explains Sycamore Brewing co-owner Sarah Taylor Brigham. "We encourage all of our contestants to step out of their comfort zone to make fun and engaging short videos for the chance to win a customized Mountain Candy Airstream camper for a lifetime of adventure."
This giveaway is the perfect opportunity to taste one of Sycamore Brewing's delicious beers released this fall – and the Airsteam makes the perfect Christmas gift. Tangyland IPA, with notes of passionfruit to white grape, berry, bubblegum and spicy mango, is brand-new, the Pumpkin Latte Blonde, featuring notes of fresh spices, real vanilla and house-roasted coffee, is back by popular demand, and the Rising Hope IPA, containing passionfruit, orange and guava flavors, is back for the brewery's second year of partnership with Brewing Funds the Cure.
Mountain Candy IPA can be purchased in major grocery stores in the southeast and Charlotte-area residents can purchase the beer online at www.sycamorebrew.com. Visit CandyCamperContest.com to see if the Mountain Candy camper is coming to a city near you. For images of the Mountain Candy IPA and the Airstream, visit https://bit.ly/3rfm3mV.
Comments
comments