Charlotte is now experiencing one of the most significant growth stages in its history, with construction starting on a new apartment complex almost every week. We're also seeing an equally significant growth in new companies moving here, booming start-ups, and local expansions – all adding to increased demand for new workers.
Our job sector is currently growing faster than our housing sector, meaning the continued increase of rental rates around our city.
According to ApartmentList.com, Charlotte rents have increased 0.5% over the past month, and are up moderately by 2.4% in comparison to the same time last year. Charlotte's annual rent growth leads the state and national averages – both at 2.3%.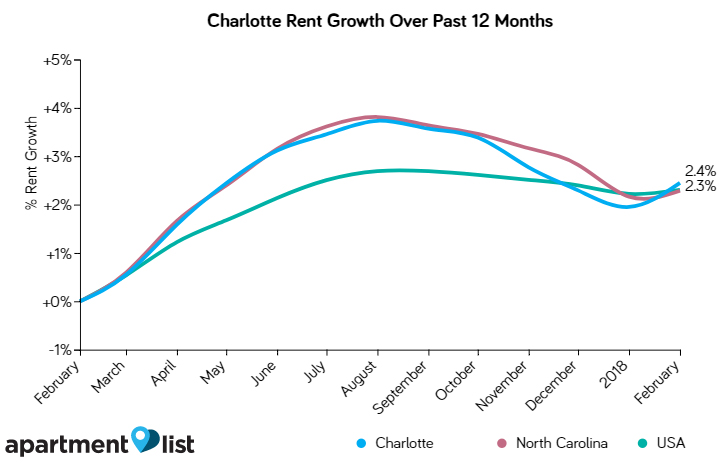 Our rapidly expanding supply of apartments all over Charlotte (and especially along the new Lynx Light Rail Line) is keeping our rates substantially lower than other comparable cities around the country.
Charlotte's median two-bedroom rent of $1,100 is below the national average of $1,160. Nationwide, rents have grown by 2.3% over the past year compared to the 2.4% rise in Charlotte.
While Charlotte's rents rose moderately over the past year, many cities nationwide also saw increases, including Phoenix (+3.3%), Atlanta (+2.3%), and Seattle (+2.1%).
Renters will find more reasonable prices in Charlotte than most comparable cities. For example, San Francisco has a median 2BR rent of $3,040, which is more than two-and-a-half times the price in Charlotte.
Locally, Charlotte's rental rates have seen the second highest increase last month behind Rock Hill – we now have the third highest rates in the area, behind Matthews and Huntersville;
Have you recently tried to find an apartment in Charlotte?
How did your experience go? 
Comments
comments