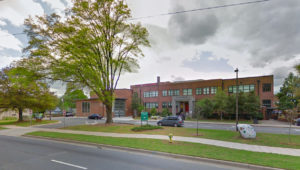 Charlotte's Northwest School of the Arts will host The United States Air Force Rhythm In Blue Jazz Ensemble January 30th, 2019 at 7 PM in the new $9.5 million stadium seat theatre located on NWSA campus 1415 Beatties Ford Road, Charlotte, N.C. 28216.
Rhythm in Blue is a dynamic jazz ensemble. This sleek, 13-16 member group presents exciting and uplifting music to inspire patriotism and tell the Air Force story. Made up of outstanding Air Force enlisted professional musicians, Rhythm in Blue takes great pride in preserving America's uniquely original art form, recruiting a new generation of listeners, and representing all Airmen. From formal concerts in grand auditoriums to casual shows in the park, Rhythm in Blue is in constant demand traveling throughout the Eastern United States, performing for diverse audiences from Maine to South Carolina.
The evening is intended as one for all ages and will include a mix of music. The evening is free, but tickets must be reserved online at https://bit.ly/2SNx2U7 Doors open at 6:30 p.m. and the concert begins at 7. Free parking is available.
Northwest School of the Arts is recognized internationally and is the only public arts magnet school serving Mecklenburg County students in grades 6 through 12. The school's unique educational approach combines elements of creativity, art, and technical prowess with a strong academic foundation. The history and prestige that comes with Visual & Performing Arts means something different to everyone – that's why our students have multiple ways to launch into a professional career down the path they choose in Band, Chorus, Costume Design, Dance, Musical Theatre, Orchestra, Piano, Theatre, Technical Theatre, and Visual Arts.
Comments
comments