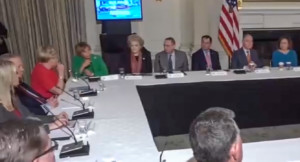 Vi Lyles took her first trip to Washington DC as mayor of Charlotte to meet with several government officials and President Donald Trump this past Monday.
The primary purpose of the trip was to deliver several key infrastructure requests to the Federal Government and to talk about how President Trump's new $1.5 trillion infrastructure plan might affect the city of Charlotte.
I'm in DC for a couple days talking infrastructure and the support we need to build out a fully integrated transportation system that helps people connect to opportunities. #clt

— Mayor Vi Lyles (@ViLyles) February 11, 2018
According to a press release from the City of Charlotte, Lyles joined 23 other elected officials to meet with the president about his new infrastructure initiative, including other governors, mayors, state legislators, county commissioners and an agriculture commissioner.
"The citizens of Charlotte expect the mayor and City Council to work with the federal government to ensure that our transit system, highways, water and energy infrastructure are world class," Lyles commented. "I stand ready to work with the president and the leadership of both parties on Capitol Hill in partnership to advance infrastructure legislation that creates jobs, makes getting to work easier, improves our environment and prepares our economy for the next decade and beyond."
The president's new plan, if approved by Congress, would eradicate the historical 50-50 model of infrastructure finance (currently, most major infrastructure plans that are approved can expect to receive 50% of their funding from the federal government).
The new proposal includes just $200 billion in federal money. And for most projects, it would require states and local agencies to come up with at least 80% of the revenue in order to get, at most, a 20% federal match. For highways, that means the White House plan would completely flip the current 80-20 federal-state funding split.
This could either mean more privately funded highway projects for the Charlotte region (like the I-77 toll lanes), higher local taxes to pay for new roads and light rail lines, or simply less new infrastructure projects in general.
Comments
comments