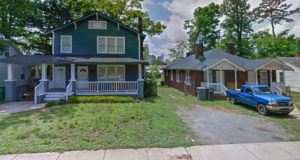 A new study has been published by Realtor.com that examines the trend of gentrification (drastic price increases in low-income areas) in cities across the country. The controversial phenomena benefits investors and homeowners, while also driving up rental prices for low-income families, forcing many out of the neighborhoods they grew up in.
To determine the 10 Fastest-Gentrifying Neighborhoods in America, the site examined lower-income ZIP codes in America's 100 largest cities, then ranked them based on the changes in median household income, median home sale price, and the percentage of residents with bachelors and masters degrees between 2012 and 2017.
Out of the thousands of areas they analyzed, Charlotte's Lockwood neighborhood ended up ranking #3 in the nation, just a few points behind Miami's Little Haiti (#2) and Detroit's Rivertown (#1).
They found that Lockwood's current median list price is $280,000, which has increased 100.9% over the past 5 years, median household income has increased 28.5% over the past 5 years, and the share of people with bachelor or higher degrees increased by 61.8% over the past 5 years.
According to the report, Charlotte's Lockwood "has become ground zero for investors despite once being known as one of the most dangerous places in the country. The area has lots of homes built in the 1940s with large back and front yards. Prices are quickly nearing $300,000."
The tiny neighborhood borders Uptown and NoDa to the north and sits directly on the new Lynx Blue Line Lightrail extension;
What do you think about gentrification in Charlotte?
Do you think anything should be done?
Comments
comments