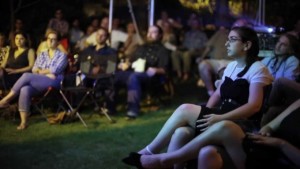 Charlotte's own Joedance Film Festival has officially opened the call for film entries for the 2018 Festival. Deadline for submission is June 1, 2018.
The Joedance Film Festival honors the late Joe Restaino to raise awareness and funds at Atrium Health's Levine Children's Hospital for rare pediatric cancer research, specifically sarcomas, blastomas and brain tumors. Joedance is also committed to raising awareness of the local film industry by showcasing local films. The family chose a film festival to honor their son because of his love of movies. To date, Joedance has raised more than $150,000 for Atrium Health's Levine Children's Hospital in eight years, including $25,000 in 2017.
Joedance ushers in the new era in 2018 with a larger venue and new event management consultant, giving Joedance an opportunity to double attendance, increase contribution to Atrium Health's Levine Children's Hospital, and ensure the organization's future and legacy.
The 9th Annual Joedance Film Festival will be held Friday-Saturday, August 3-4, 2018 (8-11 p.m.) at Charlotte Ballet, 701 N. Tryon St., beginning a new partnership with the Charlotte cultural gem. The new venue offers Joedance both indoor and outdoor-tented seating, more than doubling the 2017 capacity of to 350.
"Charlotte Ballet is pleased to be partnering with Joedance for the first time," said Doug Singleton, Charlotte Ballet's Executive Director. "We take pride in supporting creativity, local artists and the diversity of the arts community in Charlotte. Being able to keep the event in Uptown as a nod to the amazing history of Joedance makes this partnership even more ideal."
Joedance has now contracted with Third Rock Events to manage the Film Festival and move beyond a mostly volunteer Festival operation. One of Third Rock's specialties is non-profit event turnkey management.
Said Shawn Cosner, Founder and President of Third Rock Events: "For the past eight seasons Joedance has created an outstanding film festival in the Queen City and has been a part of great advances in cancer research. We are honored to have been selected to work along the dynamic Joedance team and are looking forward to the festival growth, and one day seeing a cure for cancer."
Joedance Film Festival annually showcases short and feature-length films. Eligible filmmakers have to:
*reside in Charlotte;
*be originally from Charlotte
or
*be connected to Charlotte (films, cast or crew)
To submit a film, follow the link, https://joedance.org/film-submissions/.
Comments
comments