Charlotte's Gold District just opened their newest gourmet restaurant – Bardo, led by renowned chef Michael Noll, who previously worked at Chicago's famed Moto, Butter, Schwa, and Sous Rising.
The upscale eatery sits right next to the soon-to-open Yume Ramen Bistro and across the street from South End's new Bodega, Max and Lola, and Charlotte's first fluid-bed coffee roastery and tasting room, Reviver Coffee.
Bardo's unique menu features chef-driven offerings with Japanese, American, and Spanish flavors, packed into focused 13 main course and 3 dessert menu, with prices ranging from $8-$23.
I went out on a limb and ordered the Spanish Octopus w/ avocado, chorizo, pineapple, and espelette;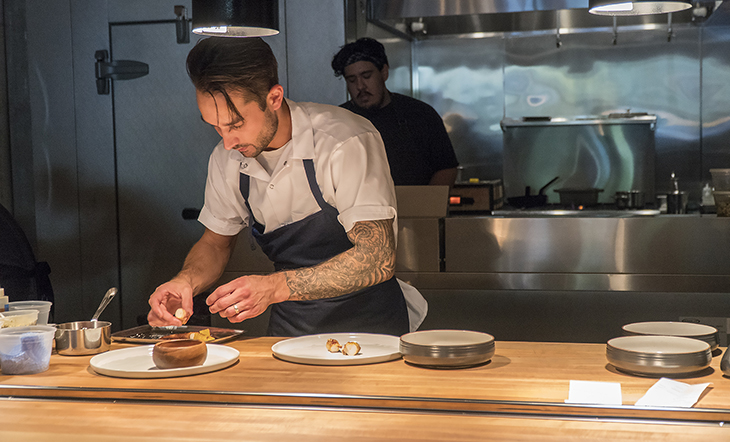 I honestly wasn't expecting much, as I've never had non-rubbery octopus, and I'm not the biggest fan of avocado, but when I took my first bite, I was surprised to say the least.
The texture reminded me of a slightly tough scallop with a nice char around the edges, and the flavor was buttery and smooth. The avocado creme and pineapple added the perfect sweet and creamy accents, and the crispy chorizo bits a nice finishing touch.
Bardo will now be open Tuesday to Thursday from 5 to 10pm, and Friday,  Saturday, and Sunday from 5pm to 1am.
Their menu will periodically change based on seasonal and available ingredients.
Comments
comments