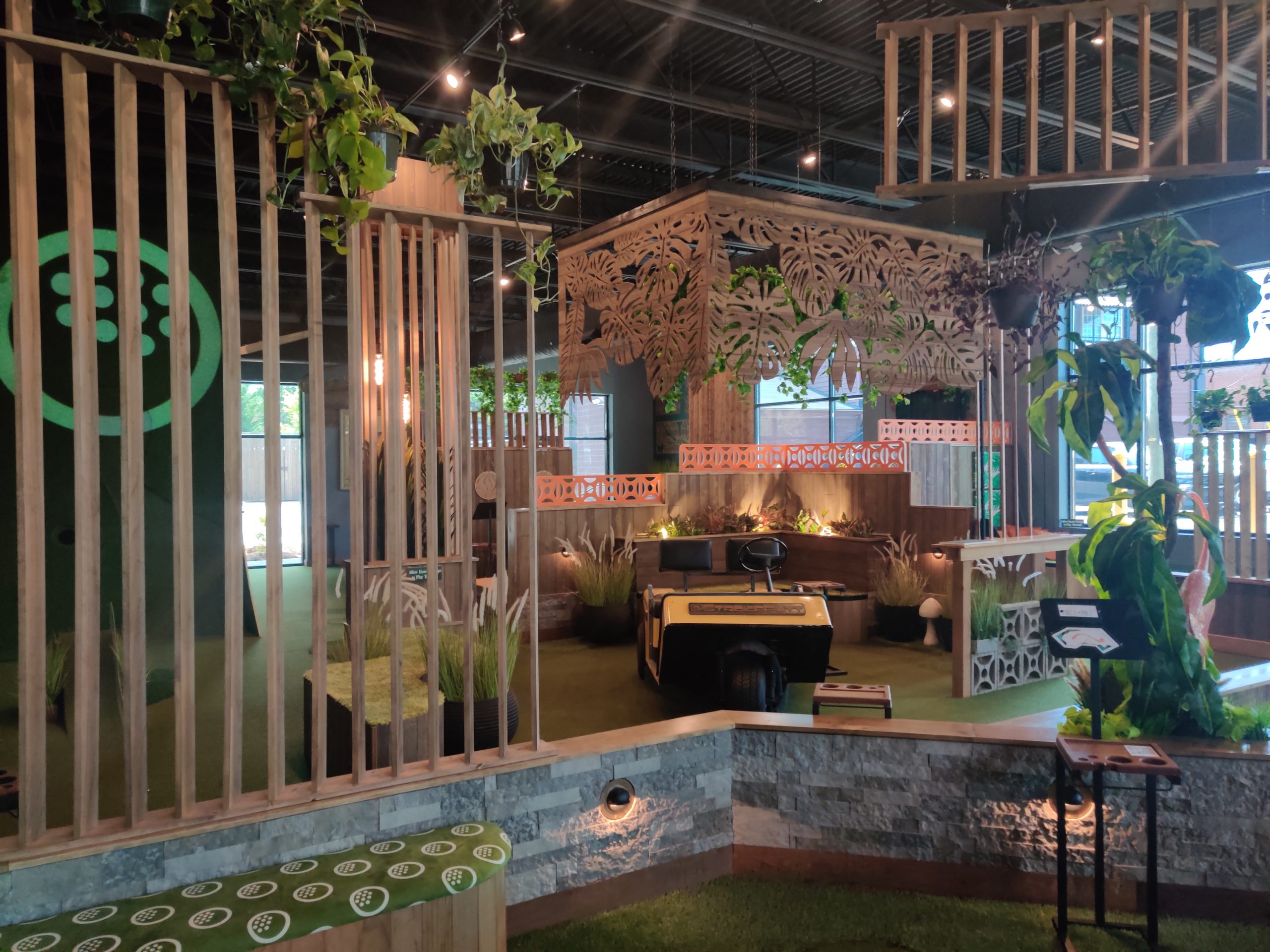 Putt-Putt fans rejoice – Charlotte's biggest, first, and only indoor miniature golf and cocktail lounge just announced they are reopening after being shut down for nearly 4 months due to the COVID-19 pandemic.
Stroke Charlotte combines a high-tech nine-hole miniature golf mini-golf course with a 1970s-inspired cocktail lounge in the heart of Plaza Midwood.
The unique concept was the brainchild of Scott and Ashleigh Gadd, who sold Charlotte's popular 'Axe Club of America' back in October and decided to create something a little less dangerous and a little more unique.
"From our decor, to our course, to the drinks at our lounge, everything is meant to surprise you, keep you interested, and to have fun," Stroke's CEO Ashleigh Gadd told me. "We may throw you for a couple loops, but that's the intention."
The unique course starts at hole #1 by the front door, then snakes around plans, unique seating arrangements, countless drink holders, and some truly unique surprises along the way. Once you've played the course and had a few drinks, Strokes also offers a free-to-play arcade putting games to satisfy even the most ardent indoor putt-putt fanatic.
In addition to a truly unique game of mini-golf, Stroke also offers some of the most creative cocktails in the Queen City, featuring 9 signature drinks that change seasonlly, including the popular 'New South Sour' with strawberry wine and the Bermuda Thousand with 1000 Piers Gin from NC's Hackney Distillery.
After you've worked up an appetite dominating the greens, Stroke also features a 9-item small bites menu with clubhouse inspired dishes.
Stroke Charlotte is located at 1318 Pecan Ave in Plaza Midwood.
You can find out more about Stroke, as well as what changes they have made to help keep people as safe as possible during COVID-19 on their website here.
Comments
comments