At the Epic Fest Family Festival, thousands of families from all over Charlotte gathered to meet their favorite writers, and celebrate their love of reading.
Last Saturday, The Charlotte Mecklenburg Library Foundation held Epic Fest for a second year at ImaginOn: The Joe and Joan Martin Center. Young Charlotte readers met and heard from award-winning children's authors and illustrators.Ten author's presented this year including Tom Angleburger; Linda Ashman, Kathleen Burkinshaw, Nancy Cavanaugh, Jessica Khoury, Matt Myers, Kelly Starling Lyons, LeUyen Pham, Adam Silvera, and Tui Ti. Sutherland.Wells Fargo, with Read Charlotte and the Charlotte Hornets sponsored the event.
The literary festival was a two-day eventpacked with shows.Silvera and Khoury hosted Epic Fest Teen Night on Friday at the Google Fiber building. At the Saturday's festival, authors read to happy young fans, and signed autographs and books in ImaginOn's Spangler library. Books were available for sale by the Black Forest Book company. The Charlotte Hornets Book Bus also stopped by to give each lucky rider a free book.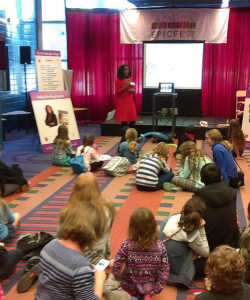 Besides stories, Epic Fest offered many other free family activities. Face painters and balloon artistsentertained visitors.Book characters like Baby Llama from "Llama Llama Red Pajamas" greeted fans. Children could make fun art like bookmarkers and play dough figures at early learning stations. Families snapped digital backdrop pictures at the Tap Snapbooth. Arobotics display occurredat Time Warner Cable Tech Central, anda live DJ and free Henna hand tattoos wasopen to visitors in the Teen Loft.
Festival activitiesextended out onto 7th Street. Workers from the Community School of Arts helped children draw stories in color chalk and spot paint in the group art section, and an inflatable bounce castle was nearby to hop around in.
Snacks and refreshments were available for event patrons. Just Fresh provided free coffee and herbal tea. Johnson and Wales University students demonstrated how to make pineapple salsa. Several local foods trucks such as Taco Green Go and Buffalo's Best served outside.
Epic Fest officials were happy with the festival's growth. Mark West, Chair of the UNC Charlotte English Department, said this year has been a tremendous success, with over 3,000 more people attending. He attributes this with the event's accessibility.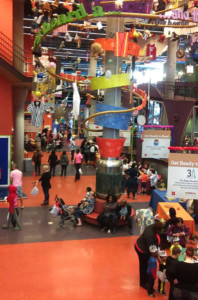 "It's totally free, so all sorts of people can come," West said. "You don't have to spend a fortune, and there's a lot of activities."
West serves as an "Author Wrangler" on the assisting committee, by arranging for author appearances. As English chair, he also coordinates UNC Charlotte English students to volunteer at the event.
He said the festival evolved from the 'Word Play Saturday,' event that took place during the former Novelo literary celebration. When the library foundation decided to bring it back, it became Epic Fest.
Although for children, many parents said they appreciated the festival just as much. Lilian Mayer said many parents complemented her beautiful Henna tattoo. This year, she brought her two sons along. Her oldest son break-danced with the Teen Loft DJand her youngest met the mouse from "If You Give a Mouse a Cookie."
As anImaginOn teen services specialist, Mayer usually facilitates programs in the Teen Loft. However, today, she says she is happy letting her children plan everything.
"My son is running the show," Mayer said. "I'm not even telling him where to go. It's just so much to do that he's just making me follow him."
Mayer said she enjoyed creating play dough figures with her son, making him a grown, and taking pictures together for Facebook. Her favorite part was the pineapple salsa.
She said the event brings families closer together and shows that literacy can be fun. Her youngest son is a big reader, with "Chica Boom" as his favorite book. She says events like Epic Fest show that kids like to read.
West said reading could be intimidating for some children, who often associate it with homework, but Epic Fest makes the literary process fun. He's grateful to reach so many different children, and will continue to help do so in the future.
"I'll do it as long as they want me to!" he said.
Comments
comments