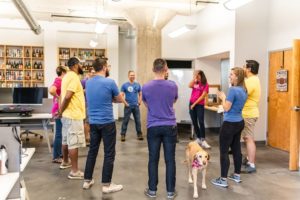 The Business Intelligence Group announced today the winners of its 2020 Best Places to Work award program, with Charlotte's own software firm Ekos named as one of the best in America.
The nominations for the Best Places to Work award were submitted and then employees of the nominated organizations were asked to complete an online survey to rate their overall satisfaction and company performance.
"Coming off a banner year in 2019 highlighted by our Series A funding round and numerous new hires across the organization, we couldn't be more pleased to get the news about this 'Best Places to Work' honor," said Josh McKinney, Ekos CEO. "One of our core values is taking care of our employees and making Ekos a great place to work. When we take care of them, they in turn take care of our customers. And when our customers are taken care of, they have a better chance of being successful, which then makes us successful. It's all connected. Being named to this list validates that we're on the right path."
"Congratulations to Ekos for building an organization focused on employee engagement and performance," said Maria Jimenez, Chief Nominations Officer of Business Intelligence Group. "It was clear from analyzing the employee survey data that this is a great place to work and employee feedback is not only listened to but acted upon. Congratulations to the entire team."
Ekos plans to hire an additional 40 people in Charlotte this year. Some of their recent executive hires include Christina Kyriazi as VP of marketing, Chris Rosbrook as CFO, Chris Smith as VP of engineering, Trent Terrel as director of sales, and Landon Funsten as director of business development.
Comments
comments