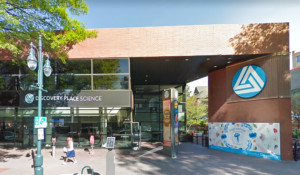 On Monday, May 11, join Discovery Place Science (@discoveryplacescience) on Instagram Live at 7 p.m. as we talk with engineer extraordinaire Avery Bang about her passion for building bridges in poverty-stricken areas of the world.
Bang is president and CEO of Bridges to Prosperity, a nonprofit that connects isolated communities to markets, hospitals and schools by building footbridges over impassable rivers. Her work was featured in the 2017 film, Dream Big, and those who tune in to the Streaming Science event are encouraged to first watch the film. It is available free for Netflix subscribers and to rent on Vimeo.
Bang's foray into bridge building began when, as a young girl, she took a keen interest in engineering – namely through building with LEGO bricks. From there, she pursued degrees in civil engineering and studio art at the University of Iowa, and later completed a graduate degree in geotechnical engineering at the University of Colorado Boulder. Later, she completed her MBA at the University of Oxford in England.
Bang has helped Bridges to Prosperity grow from a grassroots effort into a $5 million per year operation. Over the past 17 years, the organization has built more than 250 footbridges and served nearly a million people around the world.
Bang is also committed to inspiring young students to pursue careers in engineering. Join her for an inspiring conversation May 11 at 7 p.m.
Comments
comments