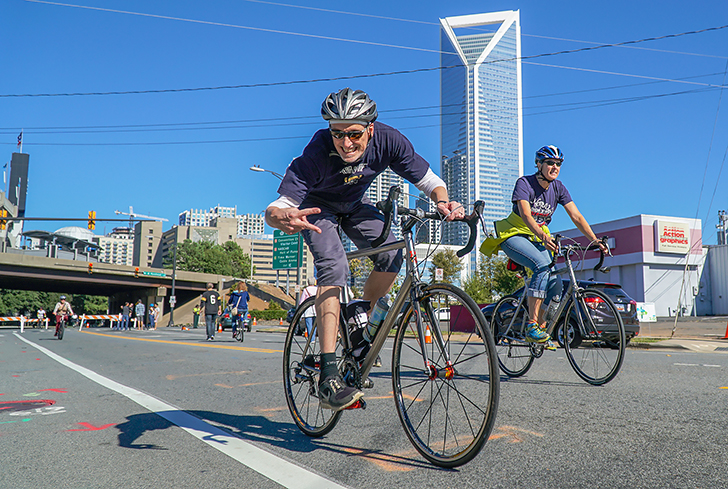 Charlotte's 8th officials 'Open Streets 704' is gearing up to shut down the streets to motorized vehicles and open them to all varieties of bikes, scooters, walkers, and unicyclists. The streets will also open up to dozens of artisans, street vendors, musicians and classes for residents to freely explore.
Open Streets 704 returns to one of its most popular West Charlotte-Dilworth routes on Sunday, September 15th from 1 – 5 p.m.
This past Spring, Open Streets 704 saw over 30,000 neighbors wind their way through NoDa, Villa Heights, Optimist Park, Belmont, Plaza Midwood, and Commonwealth.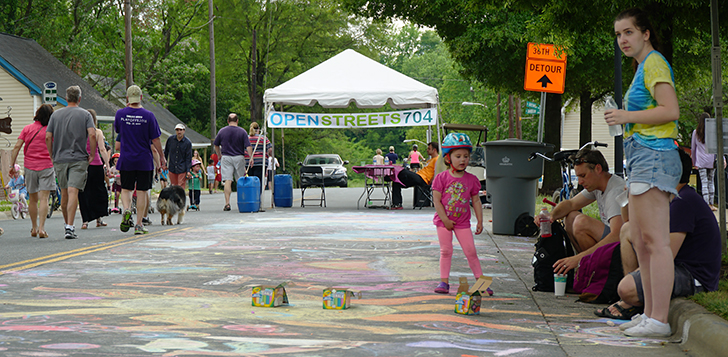 This Fall's event will include the zones;
 Arts and Science: (Highlighted in RED)  Opportunities abound to explore your creative side. Musical performances, artist demonstrations, interactive maker spaces, and dance ensembles of all ages will engage with Open Street 704.
Southminster Family Zone: (Highlighted in YELLOW) Fun for the whole family! From bean bag toss to a pop up dog park – be prepared to get active. Activities will include: street soccer, bicycling demonstrations, pet crafts,  life-size jenga, and more!
 Green Zone: (Highlighted in GREEN) Be prepared to learn about the nature all around you, plants and trees in your community, or lend a helping hand in the garden, and find out about local wildlife!
 Wellness Zone: (Highlighted in BLUE) Explore a fitter, healthier version of you! Cooking demonstrations, yoga classes, Zumba, and healthy heart initiatives will fill this zone with fun!
Open Streets 704 is free and open to all to participate.
Contact the Activities Team if you're interested in hosting an activity with your business or neighbors, or sign up here if you want to volunteer.
Comments
comments