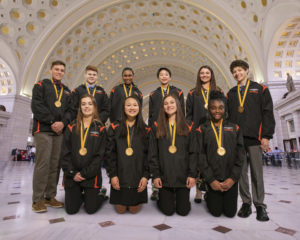 Katie Chai, 18, of Charlotte was named North Carolina's top youth volunteer of 2021 by The Prudential Spirit of Community Awards, America's largest youth recognition program based exclusively on volunteer service.
Katie will receive a $2,500 scholarship, a silver medallion and an invitation to the program's virtual national recognition celebration in April, where 10 of the 102 State Honorees will be named America's top youth volunteers of the year. Those 10 National Honorees will earn an additional $5,000 scholarship, a gold medallion, a crystal trophy for their nominating organization and a $5,000 grant for a nonprofit charitable organization of their choice.
Katie, a senior at Charlotte Latin School, helped start a grassroots effort to address the shortage of personal protective equipment (PPE) in her city by using 3D printers to make more than 100,000 face shields, which were ultimately distributed to health care workers across North Carolina and in 12 other states. As the daughter of two doctors, Katie was really worried about her parents' safety when the COVID-19 pandemic struck in March of 2020. "Our quarantine dinner conversations mainly revolved around our communal and nationwide shortage of PPE," she said. But one night her father showed her an article about engineers in Italy who were 3D printing parts for their respirators. Having taken some engineering classes in school, Katie wondered whether face shields could be made with her school's 3D printer.
She immediately called her engineering teacher, who agreed to help. Within three days, they had printed and laser-cut their first face shield in the school's engineering lab. Five days later, they delivered 40 shields to a local hospital. To ramp up production, Katie sought donations through GoFundMe and media interviews, drove around town to buy supplies, and began assembling shields with her family every night. As word of her project spread, more than 400 volunteers offered to help with the assemblies, and other high schools, universities, businesses and local engineers began producing shields with their own 3D printers. In a little over a month, Katie's initiative raised more than $114,000 and delivered more than 106,000 face shields to protect healthcare workers.
The Prudential Spirit of Community Awards, conducted annually by Prudential Financial in partnership with the National Association of Secondary School Principals (NASSP), honors students in grades 5-12 for making meaningful contributions to their communities through volunteer service.
"We created the Prudential Spirit of Community Awards 26 years ago to highlight and support the work of young people taking on the challenges of a changing world – a mission that rings truer than ever given the events of last year," said Charles Lowrey, Prudential's chairman and CEO. "We are proud to celebrate the vision and determination of Spirit of Community's Class of 2021, and all the ways they're making their communities safer, healthier and more equitable places to live."
To read the names and stories of all of this year's State Honorees, visit http://spirit.prudential.com.
Comments
comments